My First Ever Keynote at WIB Expo by Estelle Keeber
Well what can I say? The first ever Women In biz expo was an incredible success! I was honoured to be invited along to this 2 day conference to help women in all aspects of business.
Throughout the 2 days there were panel discussions, expert speakers and a dedicated keynote stage. Not only did we have the opportunity to hear these incredible experts share their tips and knowledge but there were also hundreds of stalls to empower and encourage women in business to grow!
I was lucky enough to have a meeting with one of the partners of the event whilst I was there. Psychologies magazine link to magazine is a positive living bible focused on all aspects of personal potential and wellbeing, offering genuine food for thought and tools for living. It addresses what we're really like, not just what we look like, by focusing on helping women understand themselves and the world around them. Suzy and Nikki from Psychologies Magazine were incredibly sweet to me before my speech and took care of me as I started to get unwell! Incredibly inspiring ladies!
Super excited to share with you all the plans we have for working together…watch this space!
On day one of the WIB Expo I had the opportunity of listening to the legend that is Karren Brady CBE. Hearing her struggles of being a female In a very male dominated world really resonated with me. After her keynote speech she took the time to have a chat with me and offered some amazing words of advice on remaining focussed as a business woman. I can't lie it was a little surreal taking a selfie with such an incredibly successful woman!
Suzy from Psychologies magazine also delivered and incredible keynote on goals and how important it is to say them out loud. Amen to that!! My goal…to be back on this stage next year sharing more of my journey with the crowd!
I left day 1 feeling utterly uplifted from meeting so many amazing women (and a few men)
Day 2 started a little ropey for me! I woke up with aches, pains, sore throat, tiredness…oh yes…I had the lurgy! Regardless of the dreaded lurgy my amazing assistant Natalie Boland worked me MUA magic on me and even if I did feel ready I for sure looked the part!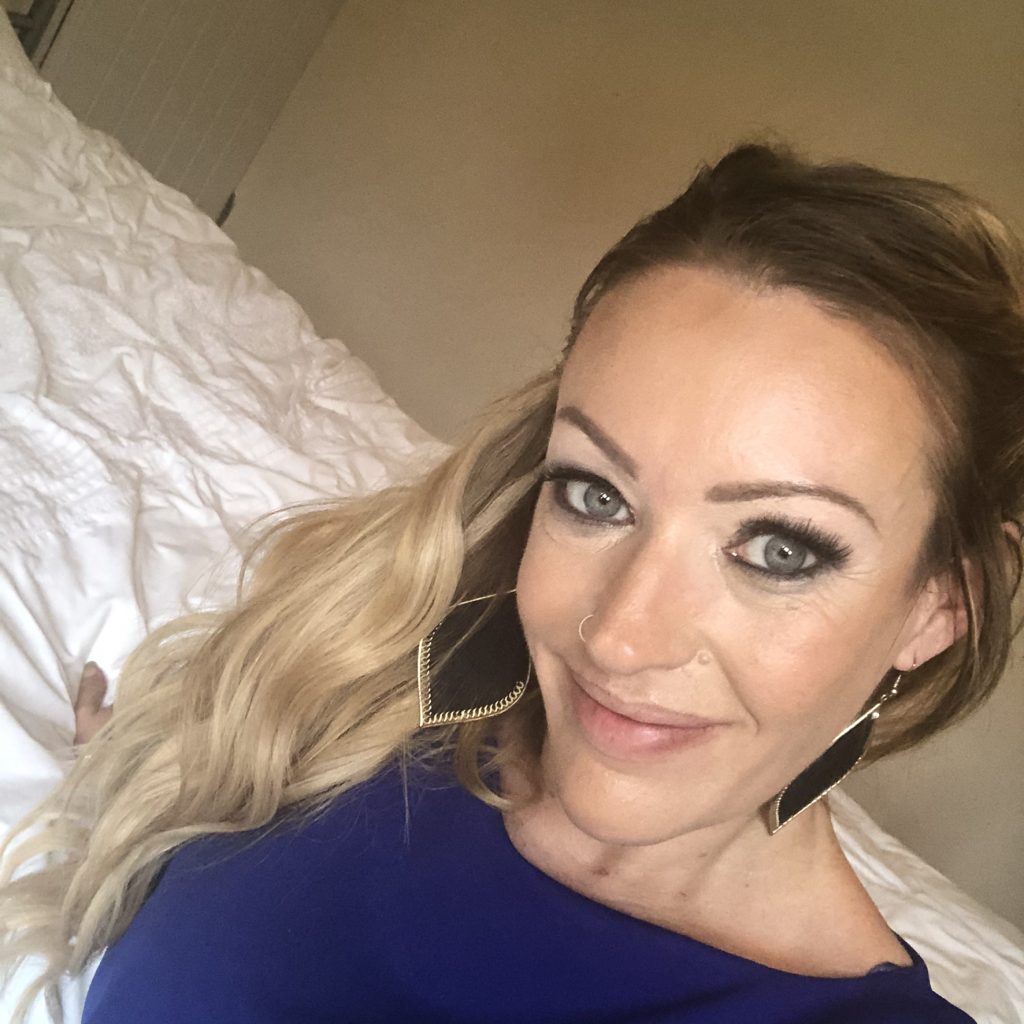 I was so nervous before delivering my speech especially knowing that Michelle Mone was about to follow…no pressure right?
As the crowd started to gather my excitement and nerves grew by the second. A few deep breathes and some badass affirmations later I was finally on the stage!
For the first few minutes it took all my strength to keep my jelly legs from wobbling but then…I relaxed into it and the Insta Queen emerged!
Seeing the reactions of the audience as I shared my story. Looking at their faces as they nodded with understanding at the struggles I had gone through to get to this point. Seeing them laugh when I shared stories of how meditation use to make me feel like a weirdo! Watching them smile as mentioned our article in Forbes Magazine, knowing how proud I was of the achievement and the hard work that got us there.
It was then I realised we had connected. I had connected. With every single one of the hundreds of women who had come to watch my first ever keynote speech. Each one of the women who had taken the time to attend my speech had at least 1 thing in common…they all wanted to learn and grow and be inspired and I think I can say I delivered.
The crowds interaction during the Instagram task and feedback after the presentation was awesome and I felt overwhelmed with the amount of women who said that they too had suffered with some of the things I had shared and that they now felt they weren't alone on the journey. That makes the nerves all worth while. Knowing I have inspired just 1 person means my job here was a success!
After spending 15 minutes meeting the crowd and obviously taking lots of selfies it was finally time for the sensational badass business babe…Michelle Mone.
Her keynote speech was mind blowing and I resonated with so many points of her journey. She shared how she had left school without a plan, wanting to help ease the financial burden on her family. How she decided to create a new bra on a night out after moaning about the one she was wearing… a decision that made her millions of pounds. I loved the story she shared of how she secured her first contract with Marks and spencer's and how she then went on to launch a bloody genius marketing campaign with just the £400 she had left in the bank.
I was super honoured to be able to chat with Michelle after her presentation. We talked about my business journey and she shared a few of her favourite tips with me. She wished me the best of luck, we swapped books and of course we got a selfie!
I can honestly say…I dont think this will be the last time our paths will cross!
Theres so much more to tell but that's for another blog….
So in brief…if your looking for an incredible, inspiring event for women! You need to get your tickets now! https://www.wibexpo.co.uk/contact/
Until next time…
Estelle x