Let us start by thanking MIBA for this opportunity, it is a real privilege and honour. We have been in the website and hosting industry for around 10 years and wow, have things changed!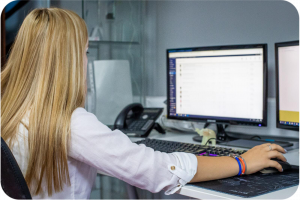 10 years ago, social media was still new, websites were thousands of pounds and only a few businesses were 'experts' in either of these areas. Now all you need to do is turn your phone on and you'll see an abundance of social media notifications, and a website or IT expert just around the corner.
So, with all these changes and new found 'experts' who and what can you trust? Everything is available at the touch of a button these days; the internet is at our fingertips wherever and whenever.
The internet allows people to reach a worldwide audience and allows you to find things worldwide without too much effort. More and more people have moved to purchasing and hiring things online and maybe you should be taking advantage of that.
There is often this misconception that if you are a start-up business, a solopreneur or even an established small business, your chances of being able to afford a professional Web Designer are slim to none. We've chosen to devote this blog to expel this myth, and show how you as a small business owner can benefit in more ways than one from hiring a professional to design your website.
If you post on social media, "I'm new to business and looking to build a website, can anyone help?" I can almost guarantee you will be totally inundated with replies, private messages and experts all pushing your from pillar to post with their best deal or sales pitch to convince you to use them.
"Disclaimer, I own and run Black Nova Designs Ltd, a website design and hosting company but I am truly passionate about making sure everyone knows the ins and outs before committing to anyone. We provide free support and advice and pride ourselves on that."
How can you tell a professional from an amateur? Who can you trust?
Firstly find someone who is insured, qualified and honest! Trust your instincts and don't get caught up in anything you feel uncomfortable with. Ask as many questions as possible, ask to know any ongoing fees or upfront costs.
A professional Web Designer combines their creative graphic design skills with their technical skills to bring your concept, and the vision you have for your business to life online. They can create a website that will stand out from your competitors, and tailoring its design and functionality to help to convert and generate sales for your business.
Before entering into a website design or if you would like to build your own here are our top tips:
You could get a budget website on a short turnaround by using one of the DIY website builders like Squarespace, Wix or Weebly, and settle for generic, pre-fabricated templates and limited functionality.
Or, you could Hire an agency to design and build a custom website that meets your specific needs — complete with a higher price tag and longer development timeline.
For many people, the idea of the low-cost, quick-build website is very enticing on paper. Why hire a professional website developer when you can create your own for next to nothing?
These ready-to-go websites are perfectly okay as a short-term solution. If all you need is a homepage, about page, contact page and maybe a blog. However, a website template builder OWN the copyright to their platform – you cannot move it to an independent host at any time, you are stuck with their prices, fees and restrictions.
To explain further, website template platforms are like renting a house, you can often change the look and feel of the house but there are also a few restrictions, in the main however it is customisable.
If you 'move' you have to rebuild everything from scratch, it may have been cheaper and easier in the short term but renting is rarely the long term plan.
The same way a website template platform (Shopify, Wix, Squarespace etc) own their platform, you can design, customise and change many parts of the template but you are stuck with their prices and, if and when you move you can only take the content and images, not the design. The design stays so if you expand, grow or would like changes it's rarely easy to achieve without a full redesign.
On the other hand, using a standalone CMS platform like WordPress, Magneto and Dreamweaver (to name a few) is like owning your house – everything is totally yours! You can move, change, update and decorate and there are no restrictions, and in most cases no additional fees.
Let me go through a few more things to think about:
YOU'RE STUCK WITH LIMITED TECHNICAL FUNCTIONALITY. WHEN YOU USE A DIY BUILDER, YOU ONLY HAVE SO MANY TOOLS AND ADD-ONS TO CHOOSE FROM.
Put simply, for growing businesses that need to use their website as an effective sales and marketing tool that will generate ROI, these website builders rarely fit the bill.
As a small business owner, there are never enough hours in the day to achieve all the things on the to-do list. If you were to add to that the task of creating, maintaining and updating your website as your business grows (should you choose to build it yourself), it could be the one thing that takes you away from doing what you specialise in and love doing the most.
Therefore, handing this task over to a professional, who can design and build a website and continue to look after it, could save you countless hours of work, giving you more time to be generating income.
A professional can build a WordPress site for you but so can you! Buy one of our hosting plans, install WordPress with the BND One click installer and away you go.
(FYI, the MIBA website itself is a WordPress site)
You can purchase Bespoke WordPress hosting from us but also many other hosting companies throughout the UK, you can then buy or install your own theme, install some plugins that we recommend and away you go.
We believe your website should be an investment and a positive reflection of your business. Regardless of the size of your business or blog, it deserves a website that has been designed with not only you but your customers in mind. It's far better to have a long-term plan and create something that is not only fit for purpose right now, but can accommodate for future growth in your business.
Whether you are a start-up business or solopreneur there are small business Web Designers out there that can offer you a quality and timely service ensuring that your business can be online.
We know that cash-flow can sometimes be a big stumbling block for small businesses. However, when you take into account the hours required to "do-it-yourself" and cost that against a service or product in your business, choosing to hire a professional could prove to be more cost-effective.
All in all, a website is a great tool for your company. With the ability to help with sales, marketing, accessibility, customer service as well as much more, it really is the perfect all-in-one tool.